Grand Canyon Aerial Adventures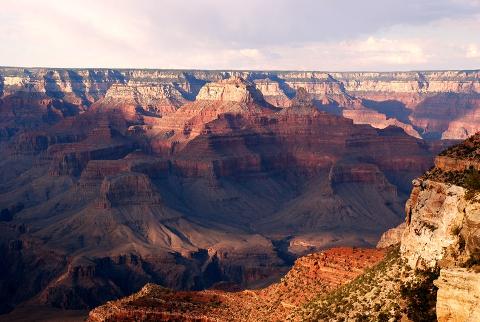 Duration : 8 Hours (approx.)
Location: Grand Canyon National Park
Product code : TS - GCSRT
Enjoy an exciting day of exploration on this air and ground tour of the Grand Canyon. You'll view the South Rim of the Grand Canyon from the comfort of a Cessna airplane and then travel on foot to see this majestic landmark up close. Tonto National Forest, San Francisco Peaks, and the Navajo Indian Reservation are just a few of the many attractions you'll admire on this Grand Canyon tour. Join your expert guide and professional pilot for an epic adventure!
The Grand Canyon, considered one of America's seven natural wonders, is a 277-mile-long canyon carved by the Colorado River millions of years ago. On this Grand Canyon tour, you'll experience the Canyon's South Rim; this side of the Canyon offers wide, panoramic views that have you reaching for your camera and leave you in awe. The first part of your Arizona tour is a Grand Canyon aerial tour of the South Rim via a roomy Cessna Caravan. This plane is all window seats, so don't worry about finding a good seat because they all offer incredible views.
During your Grand Canyon airplane tour, be on the lookout for sights like Sedona's Red Rocks and the San Francisco Peaks. Sedona is known for its red sandstone formations that glow orange when the sun rises and sets. The San Francisco Peaks are a volcanic mountain range that's popular among skiers; it's the remains of an eroded stratovolcano, a volcano made up of hardened lava, ash, pumice, and other natural materials. Once you're done flying 1,000 feet above the rim, you'll land at Grand Canyon Airport and take a private van to Grand Canyon National Park.
At the park, you'll begin your ground tour of the South Rim. Pay a visit to Grand Canyon Historic Village, Hopi House, and various park lodges to take in the Canyon from different perspectives. Expect large viewing areas galore, so make sure your camera is fully charged to capture this incredible landmark from every angle. Before heading back to the airport for your return flight to Phoenix, you'll eat lunch at one of the park lodges and have time to swing by the gift shops to pick up souvenirs to commemorate your trip.
The Grand Canyon has to be experienced at least once in your lifetime. This is your chance to see it not only from the ground, but from up in the air, as well. If you're ready for an exhilarating adventure you'll never forget, reserve your spot today.
Tour Departs from Deer Valley Airport. Optional direct pickup from your location is available upon booking.
We recommend layered clothing and closed-toe shoes. Temperatures at the Grand Canyon are 20-30 degrees cooler. This tour is not handicap accessible. The listed price does not include a $20.00 per person fuel surcharge, payable at the time of the tour check-in.