Collective Half Day Etna Jeep Ride from Taormina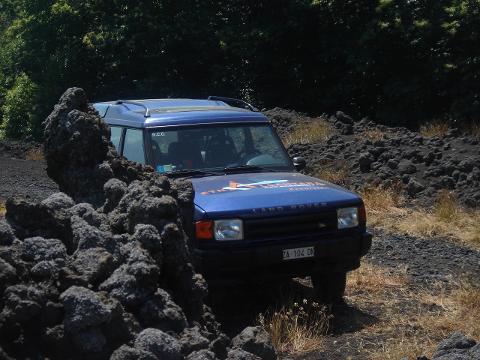 Duration : 5 Hours (approx.)
Product code : JEEPCOLL
Etna Jeep ride (approx. 5 hours: from h 8.30AM to 1.30PM)
Today meet the off-road's driver and transfer to Etna Volcano for a lovely Jeep experience. The Driver will introduce you to Mt.Etna during the first stop to visit a lava front. Then a 50 minutes walk through lava craters (Mt. Sartoruis, 1700 mt.) or, if you prefer, free time at Rifugio Citelli. Later you will be driven up to 1850 mt (Piano Provenzana) to discover lava flow from 2002 eruption. During the last stop you will visit a lava cave, then back to Taormina.
During this excursion you will have the opportunity to taste local products: e.g. wine or pastries or honey.

HIGHLIGHTS:
Etna Volcano: Scenic Jeep Drive to the beautiful volcano. With this excursion we explore the north side of the Volcano up to 1800 meters.
PRICE & BOOKING INFORMATION
- Group of 2 People: Euro 75,00 per person
- Group of 3 People: Euro 67,00 per person
- Group of 4 People: Euro 60,00 per person
- Group of 5 People: Euro 55,00 per person
- Group of 6 People: Euro 47,00 per person


Booking process system:
Send us all Your details by filling in the automatic form - no payment is required at this stage - Your booking will be in pending as long as we will confirm the availability. If available, the tour will be confirmed and we will charge the full amount on Your credit card. As per our policy, the payment is needed to guarantee the booking.


WHAT'S INCLUDED
-Collective Jeep Ride Excursion
-Basic English speaking jeep driver
-One tasting of wine or local products
-Booking fee
-VAT
WHAT'S NOT INCLUDED
Gratuities and tips

***** IMPORTANT TO KNOW *****
The service will be operated by a 6 seats jeep, but please note that only 5 people will have a window seat.


DRESS CODE:
-from March to May & from October to November: pack winter coat and dress sturdy shoes or hiking boots;
-from June to September: pack a waterproof shell and dress in layers. Dress comfortable shoes or sneakers; do not forget you sun screen, sun glasses and sun hat.
GRATUITIES (We Suggest):
- We recommend to pay an average of eur 50,00 to the Driver Escort --if you are satisfied of him-- based on the efficiency and service you receive.
-Gratuities to restaurants are never included in the bill. The restaurant cover charge is not a tip. If paying with credit cards in Italy & Sicily, please be so kind as to pay your tip separately in cash to the waiter. This should be 10% of the total bill.
-The use of public toilets requires a payment to the attendant of EURO 0,50 cents.
DISABLED TRAVELERS:
Please be so kind as to share with us, before your arrival, if you have walking restrictions.

EXCURSION | CANCELLATION POLICY:
-Total refund up to 15 working days before arrival
-25% of total amount won't be refunded from 14 to 10 days before arrival
-50% of total amount won't be refunded from 9 to 6 days before arrival
-75% of total amount won't be refunded from 5 to 3 days before arrival
-100% of total amount won't be refunded from 2 to the day of the services or after (No refund for no show).