22 Days Annapurna Circuit Trekking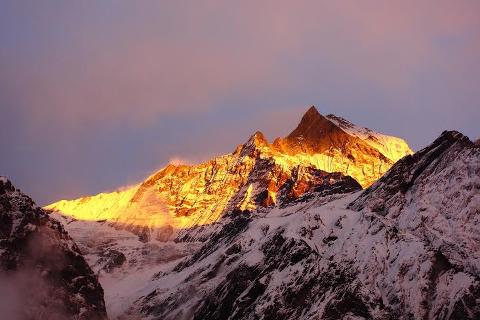 Duration : 22 Days (approx.)
Product code : POL0EP
Offers a close views of Annapurna, Dhaulagiri and the magnificent Machhapuchre (Mt. Fishtail).
Highest Point: 5416 M high Thorong Pass
Includes the arid valley of the upper Manang, home of the Tibetan
Buddhist, down to the Hindu pilgrimage site of Muktinath and the Kali
Gandaki valley, the world's deepest river gorge.
Encounter of Gurung, Manangi and Thakali People while in the heart of the Himalayas.
Trip Details:
Best Season: September to December, February to June
Tour Starts: Kathmandu
Tour Ends: Kathmandu
Places Covered: Kathmandu, Besi Sahar, Bahundanda, Chamje, Bagarchhap, Chame, Isang, Manang, Yak Kharka, Thronogla Phedi or High Camp, Muktinath, Marpha, Ghasa, Tatopani, Ghorepani, Hille, Pokhara
Transportation: Private car/van/coach
Trek Grade: Challenging
Trek Staff: Guide (Trek Leader), Sherpa, Porters
Accommodation: Tea House/ Lodge in Trek
Highlights
:
Guided sightseeing tour of Kathmandu Durbar Square, Patan Durbar Square, Swaymbhunath Stupa and Boudhanath Stupa in Kathmandu.
Manang, the beautiful center of Buddhist culture, home of Tibet, Hindu
Pilgrimage site Muktinath, Beautiful mountain views, encounters with ethnic groups of people like Manangi, Gurung & Thakalis. Rhododendron forest, Annapurna I, II, III, IV, Nilgiri, Dhaulagiri, bird's eye view of Kali Gandaki and many beautiful village sights.

Package Includes:
Accommodation in Kathmandu on BB basis
One night accommodation in Pokhara on BB basis
16 nights' accommodation in Trek in a Tea House or Lodge
All meals while on trek (Breakfast, Lunch & Dinner)
Airport – Hotel – Airport Transfers (Arrival & Departure)
Full day guided sightseeing tour of Kathmandu
Entrance fees to all sightseeing places and monuments
English speaking Trek leader/Guide
Porters to carry your bags (1 porter for 2 guests)
Sleeping bags
Food, Accommodation, Salary, Insurance and equipment's for all staffs
ACAP (Annapurna Conservation Area Permit) Fee
TIMS (Trekkers Information Management System) Fee
Farewell dinner (Authentic Nepalese cuisine with cultural show) on the last night in Kathmandu
All ground transfers on private air con car/van/coach, hotel and other applicable taxes
Package Excludes:
International Airfare and taxes
Travel Insurance
Nepal
Entry visa (Visa is obtained in Nepal Airport immigration on arrival.
USD 25 per visa for 15 days, USD 40 per visa for 30 days and USD 100 per
visa for 90 days. All the visas are multiple entry visas. Pls carry 02
passport sized photograph for the visa.
Lunch and dinner in Kathmandu
All items of personal nature like telephone bills, laundry, drinks etc
Tipping to guide and driver
Any other item that is not mentioned in the price inclusion list.
Detailed Itinerary:

Day 1 | Kathmandu (B)
Arrival and transfer to hotel by private car/van/coach. Short briefing about the trip.

Day 2 | Kathmandu (B)
After breakfast drive to Kathmandu Durbar Square, (UNESCO World Heritage Site). The Kings of Nepal were crowned here and
their coronation ceremony was solemnized in the Durbar Square. The Durbar Square with its old temples and palaces,epitomizes and religiousand cultural life of the people.

Other famous landmarks around the area are the Temple of Living Goddess Kumari, the wooden temple of
Kasthamandap, Ashok Vinayak. There are also museums inside the Durbar Square Palace.
After Kathmandu Durbar Square, drive to Swoyambhunath Stupa. Swoyambhunath is believed to have been established more than 2,500 years ago. Swoyambhunath (UNESCO World heritage site) has developed into an important center of Buddhism.

Drive to Patan Durbar square. (UNESCO World heritage site). The complex is perhaps the most photographed of the three Durbar squares. Located in the heart of Patan city, this was once the palace of the kings of Patan. The square is a display of Newari architecture that had reached its pinnacle during the reign of Malla kings who were great builders.
Next a sightseeing tour to Great Stupa of Boudhanath (UNESCO World heritage site). Boudhanath Stupa holds a great importance to the entire Buddhist around the world. The Stupa is a vast dome-shaped monument representing the Mind of the Buddha, is the primary pilgrimage destination for Tantric Buddhists of the Himalayas and a major draw for Tibetan Buddhists from all over the World. The history of the Stupa from its origin in the fifth century to the present day is also presented here for the first time.'

Day 3 | Kathmandu - Besi Sahar (750m) 6 hrs drive (B/L/D)
After breakfast in the morning around 7am, coach drive to Besi Sahar (185 km/ 6 Hours). Along the journey you will witness some spectacular scenery of White Mountains, green hills, rivers and hamlets. Overnight at a Guest House/Lodge.
Day 4 | Besi Sahar - Bahundanda (1310m) 6 – 7 hrs (B/L/D)
Trek starts at Besi Sahar, from where the trail makes the climb to Khudi at 790m, then reach the first Gurung village (many of Nepal's Gurkha Soldiers are Gurungs). This trail offers fine views of Himal Chuli and Peak 29 (Ngadi Chuli). It climbs to
Bhulbhule at 825m, then goes to Ngadi before reaching Lampata at 1,135m and nearby Bahundanda at 1,310m. A brilliant start to the culture of Nepal. Overnight at a teahouse.

Day 5 | Bahundanda - Chamje (1400m) 6 hrs (B/L/D)
The trail drops to Syange at 1,070m from Bahundanda. After crossing the Marsyangdi River on a suspension bridge, we follow the river to the stone village of Jagat before climbing through the forest to Chyamje at 1,400m. Overnight at a teahouse.

Day 6 | Chamje - Bagarchhap (2160m) 6 – 7 hrs (B/L/D)

Today we will pass through a rocky trail following the Marshyandi River steadily uphill to Tal at 1,675m, the first village in the Manang district. We make a trail verse crossing a wide, flat valley. The journey continues up and down to Dharapani at 1,890 m. A stone entrance Chorten typical of the Tibetan influenced villages. Upon reaching Bagarchhap at 2,160 m the typical flat roofed stone houses of local Tibetans can be seen along with the village surrounded by apple Orchardsmaize fields. Overnight at a guesthouse.

Day 7 | Bagarchhap - Chame (2630m) 4 -5 hrs (B/L/D)
This portion of the trek will provide glimpses of some of the most sensational views of Lamjung Himal, Annapurna II, and Annapurna IV (7,525m). Small hot springs add relief on our long day hard trek. Overnight at Chame.

Day 8 | Chame - Pisang (3185m) 4 hrs (B/L/D)
Pass the older part of Chame and climb up to Telekhu at 2840m and continue with a pleasant and mostly level walk through the
forest to Brathang, (2950 m). First view of the dramatic Paungda Danda rock face,a tremendous curved slab of rock rising more than 1500 m from the river. We will cross back to the south bank of the Marsyangdi on a suspension bridge at 3080 m and then make a long gentle climb over a ridge through blue pine forests. After this the trek will be reasonably level as it heads to the upper part of Manang valley to Pisang. This town marks the beginning of the region known as Nyesyang, the upper portion of the Manang district.

Day 9 | Pisang - Manang (3530m) 4 – 5 hrs (B/L/D)
A slow climb to Tibetan styled village of Bryaga at 3500 m following the valley floor. At Bryaga, we will see housestacked one atop the other, each with an open veranda formed by a neighbor's rooftop. The Gompa, perched on a high crag overlooking the village, is the largest in the district and has an outstanding display of statues. Continue through a very arid countryside, dominated by weirs cliffs of yellow rock, eroded into dramatic pillars alongsidethe trail to reach today's destination. The village of Manang where the shops are surprisingly well stocked with all the things you might want to refuel on.

Day 10 | Manang (B/L/D)

Today we will stay in Manang where we can do a short hike to ascent slightly higher to for instance Khangsar, which is a 200 m ascend. It is important to have a relatively restful day today, to allow your body to climatize to the higher altitudes and thinning air.

Day 11 | Manang- Yak Kharka (4000m) 4 – 5 hrs (B/L/D)

Continuing on from Manang, the trails ascends by nearly 500 m to Yak Kharka. We make the climb steadily through Tenki Manang, leaving the Marshyangdi Valley. Continuing along the Jarsang Khola Valley, we reach Yak Kharka at 4,000m. Herds of yaks and vegetation appear to thin out. Overnight at a guesthouse.

Day 12 | Yak Kharka - Thorong Phedi or High Camp (4700m) 3 – 4 hrs (B/L/D)

A relatively easy day to get used to the altitude before crossing the highest point in the trek, and possibly the highest point you
have been on in your life. From Letdar we will continue to climb along the east bank of the Jarang Khola to Thorung Phedi, a rock-strewn meadow surrounded by vertical cliffs at 4420 m. Blue sheep and even snow leopards can be sometimes seen in this valley. High in the skies above us we can see lammergeyers and Himalayan griffons circling around.
Day 13 | Thorung Phedi - Muktinath (3800m) 6 – 7 hrs (B/L/D)

Trek starts around 4 am to reach the pass by 10 am at the latest, as otherwise weather conditions will greatly affect the journey. Cross over at an altitude of 5416 m so can be exposed to strong winds if crossing is too late. Snow can block the pass at any time of the year if there has been an unseasonable storm. It takes from four to six hours from Thorung Phedi to the pass.

At the Thorung La pass with its traditional prayer flags and stone cairn we will haveoutstanding views. View of Annapurna, Gangapurna and Khatung Kang a heavily glaciated peak. Amazingly there is a tea shop here on the top of the pass at 5416 m. From here we start a long descend of about 1600 m with the outstanding views of Dhaulagiri mountain standing alone in the distance across the valley. After the trail becomes less steep we will enter the grassy fields and cross meadows to our final destination of Muktinath, which means place of Nirvana and is home to the Muktinath temple as well as several monasteries. It is said that all sorrows you feel are relieved when visiting the temple, which is a sacred pilgrimage site to both Hindus and Buddhists. The main pilgrimage normally takes place in September. The temple is dedicated to Lord Vishnu and has 108 water spouts around it from which holy water pours. Another attraction nearby is the Jwala Mai temple which contains a spring and an eternal flame fed by natural underground gas.

Day 14 | Muktinath - Marpha (2670m) 6 hrs (B/L/D)

A 990 m descent through meadows, streams and fruit orchards down to Kagbeni, a fascinating medieval village infused with Tibetan culture. Then we will continue going down the Kali Gandaki gorge to Jomson (more correctly Dzongsam, or "new fort"). We will reach Marpha via Jomsom.


Day 15 | Marpha - Ghasa (2012m) 6 hrs (B/L/D)

From Tukuche the trek begins with a downward walk along the Kali Gandaki river beach with a trail of motor able road. We will be slowly descending down toward Tatopani from Ghasa the next day.


Day 16 | Ghasa – Tatopani (1189m) 5 hrs (B/L/D)

From Ghasa descend towards Tatopani meaning hot spring. Many locals also visit Tatopani while travelling to the holy Muktinath temple.


Day 17 | Tatopani – Ghorepani (2775m) 6 – 7 hrs (B/L/D)

Trek up to Ghorepani with about 50-60 degreeslope up via Ghara, Shikha and Chitre, the Brahmin and Magar Indigenous habitant.


Day 18 | Ghorepani – Hille (1510m) 4 hrs (B/L/D)

Early morning hike to Poonhill, one of the best Himalayan viewpoints in Nepal. Poonhill provides an unobstructed view of the high Himalaya with the sunrise. After Poonhill hike back to Ghorepani and breakfast. After breakfast descend towards Hille. Trail descends through dense moss-covered forest rich
with bird life to Tadapani providing a close up sunset view.


Day 19 | Hille – Nayapul - Pokhara 4 hrs (B/L/D)

After savoring the mesmerizing sight of Dhaulagiri, Tukuche Peak and other Himalayan giants from the popular vantage point of beautiful Himalayas Hille for Nayapul. Descend towards Birethanti. Birethanti lies stretched beside the Modi River and has resourceful town. Almost an hour beyond Birethanti, you come to the main road.


Day 20 | Pokhara - Kathmandu (B)

Today you will be transferred back to the capital city Kathmandu. Upon reaching Kathmandu, check in to the hotel and evening free on your own.

Day 21 | Kathmandu (B)

Today explore Thamel area and Kathmandu valley on your own along with shopping, relaxation or massage, or hanging out in Thamel's cool and cozy cafe or pubs. In the evening fare well dinner at an Authentic Nepalese restaurant with cultural show.

Day 22 | Departure (B)

After breakfast, free time until your departure. Transfer to Airport for flight back home with beautiful memories.