Spectacular Lake Powell - Tour & Cruise!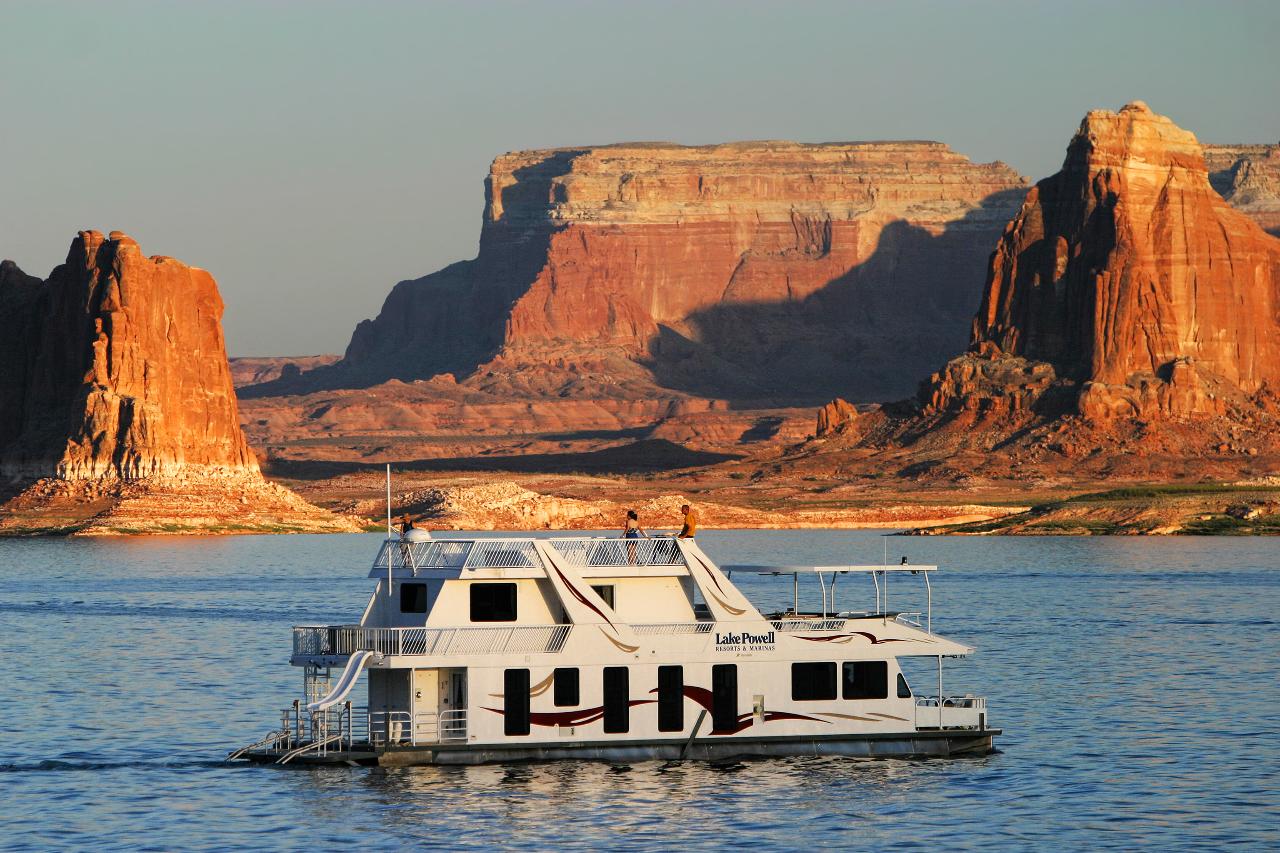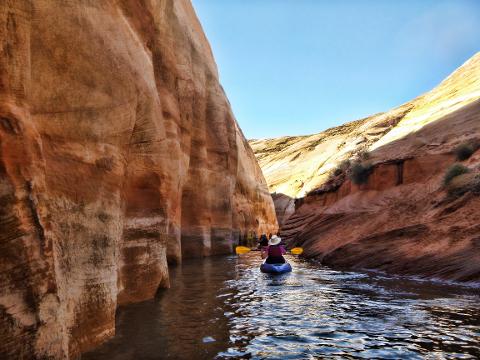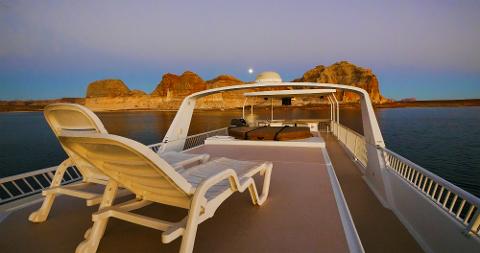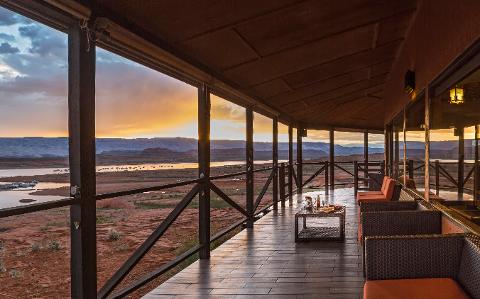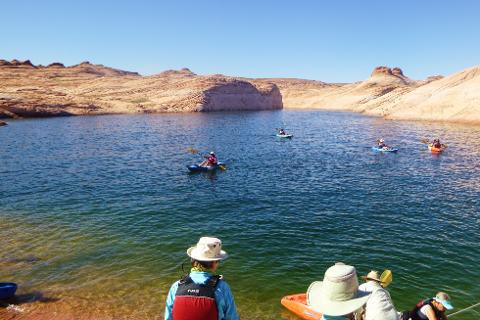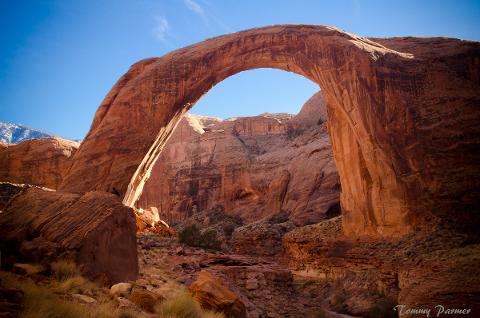 Duration: 9 Days (approx.)
Location: Lake Powell
Product code: TAP-911
Lake Powell and the Glen Canyon Recreational area has enchanted early and modern explorers and adventure seekers with its stunning sandstone cliffs, hidden canyons, pristine waters, and barren landscape. It continues to be a place of enchantment and rugged beauty untouched by modern society and industry. Now it is your turn to explore its majestic beauty and hidden gems on a 9-day Spectaular adventure through the lake. From kayaking, water skiing, stargazing, and fishing, to just relaxing on your houseboat as the scenery moves on by, this is an experience not to miss!
Highlights include:
Old Town Scottsdale
Sunset Crater and Wupatki National Monuments
5 Days & 4 Nights Cruising Lake Powell
Opportunities for Kayaking, Fishing, Water Skiing, Educational programs
Night Sky Viewing/Astronomy
Catered Meals
Itinerary:
Day 1: Saturday Oct 13, 2018 - Arrival

Welcome to Phoenix, AZ. After picking up your luggage, there will be a complimentary transfer from your home in the Metro area OR Phoenix Sky Harbor Airport to Marriott Old Town Scottsdale. Once you have checked in, fill the rest of your day exploring Old Town Scottsdale with its art galleries, restaurants, walking paths, and many other experiences just waiting for you.
Lodging at Marriott Old Town Scottsdale
Day 2: Sunday Oct 14, 2018
Your first morning will begin with a scenic drive through the Saguaro Cactus fields of the Sonoran Desert, up through the Ponderosa Pine Forests of the Kiabab Plateau and into Flagstaff, AZ. You will have a guided tour of the Lowell Observatory and enjoy lunch in Downtown Flagstaff along historic Route 66. Once finished your adventure will continue with a visit to Sunset Crater and Wupatki National Monuments and a visit to Historic Cameron Trading Post before arriving at Lake Powell Resort. Dinner will be served in the Rainbow Room as the sun sets across the lake. The rest of the evening will be yours to enjoy the beautiful scenery.
Lodging at Lake Powell Resort (B,L,D)
Day 3: Monday Oct 15, 2018
After breakfast in the Rainbow Room, you will transfer to your houseboat and load up for your cruise on the lake. The group will be broken into groups of 10 to 12 participants per houseboat. The rest of the day will be full of the beautiful scenery as you cruise up the lake to Padre Bay & Last Chance Bay. Here you can kayak, fish, enjoy water sports, and powerboat rides. At the end of the day you will enjoy dinner on the beach before an educational session and an evening enjoying the sunset and the stars. The evening educational session will be an astronomy program.
Lodging 75ft Odyssey or 75ft Excursion Houseboat (B,L,D)
Day 4: Tuesday Oct 16, 2018
As you travel up the lake today, you will have more opportunities to explore, kayak, fish, enjoy water sports & powerboat rides, or just relax as you cruise along. After lunch and a stop at Dangling Rope Marina, you will enjoy Oak Creek Canyon and other areas before you retire for the evening. The evening educational session will be on John Wesley Powell.
Lodging 75ft Odyssey or 75ft Excursion Houseboat (B,L,D)
Day 5: Wednesday Oct 17, 2018
This morning you will have the opportunity to explore one of the largest Natural Bridges in the world and the largest in the United States. Rainbow Bridge National Monument is in a remote side canyon on Lake Powell. For those interested, you can hike up to it this morning. If not, you can continue to just enjoy the lake. After this stop and lunch, you will enjoy a scenic cruise through the San Juan River Goosenecks and then head up the lake further before stopping for the evening. The evening educational session will be on the Hole in the Rock Expedition.
Lodging 75ft Odyssey or 75ft Excursion Houseboat (B,L,D)
Day 6: Thursday Oct 18, 2018
After breakfast you will get to visit the Hole in the Rock crossing and explore the Escalante River Canyon. There will be plenty of opportunities to explore, kayak, fish, enjoy water sports & powerboat rides, or just relax as you cruise along. You will spend the majority of the day cruising up and down this section of the lake before docking for the evening. The evening education session will be on the Ancestral Puebloans.
Lodging 75ft Odyssey or 75ft Excursion Houseboat (B,L,D)
Day 7: Friday Oct 19, 2018
This morning, you will cruise up to Bullfrog Marina and explore Halls Creek Bay. This is your last day to enjoy opportunities to kayak, fish, enjoy water sports & powerboat rides, or just relax on the boat. After lunch on the water, you will disembark at Bullfrog Marina and transfer to the Defiance House Lodge. The rest of the afternoon is yours relax and enjoy the beautiful sandstone landscape surrounding this area. There will be a group dinner at the Anasazi Restaurant overlooking the lake.
Lodging at Defiance House Lodge (B,L,D)
Day 8: Saturday Oct 20, 2018
This morning you will travel north from Bullfrog Marina to Goblin Valley State Park and enjoy a picnic while exploring this unique landscape. Great area to take a scenic walk through these unique formations. Once finished you will continue north into the Wasatch Mountains until you arrive in Salt Lake City, UT. After checking into your hotel for the evening, you will enjoy a farewell dinner at the Roof Restaurant in Salt Lake City. After dinner you are free to explore the town.
Lodging Hotel RL Salt Lake City, UT (B,L,D)
Day 9: Sunday Oct 21, 2018 - Departure
For those interested you can attend the Mormon Tabernacle Choir Music and the Spoken Word Broadcast at 9 AM. Or you can just explore Salt Lake City. Airport transfers will be available throughout the morning to the Salt Lake International Airport for your flights home. (B)
Inclusions:
8 Nights' Accommodations. 2 Queens or 1 King. 4 nights on a houseboat 1 Queen Bed Only (We cannot provide single beds while on the houseboat if you are wanting to share a room with another single traveler.
Professional Tour Guides
Comfortable Transportation
All Meals. 8 Breakfasts, 7 Lunches, & 7 Dinners
Park Entrance Fees
Applicable Taxes and Fees
Fully Detailed Recommendations Package with detailed itinerary, maps, hiking, weather, and more.
Capacity of 10 to 12 passengers per Houseboat
104 Total Spots Available
Group Payment and Individual Payments available
Airport Transfers:

When guests land in Phoenix, we will have prearranged transfers from Phoenix Sky Harbor to Old Town Scottsdale. The guest will just collect their bags and then they will meet their drivers be transferred over.
In Salt Lake City, The Marriott will shuttle any guest at their leisure from the hotel to the airport based on their desired departure time.

Houseboat Accommodations:

There are two models of houseboats we will be using for this experience. We have three of the Odyssey Models that have 6 bedrooms with 3 bathrooms. We also have 8 of the Excursion Houseboats with 5 bedrooms and 2.5 bathrooms.

Hiking while on the lake:

There will be at least 1 or 2 possible hikes per day for people to participate in. Each canyon and bay we will explore has areas to hike. There are some great slot canyons, Ancestral Puebloan stairs, or other areas to explore. Also, each beach we will dock at every night will have areas to walk around and explore in the evenings and mornings. Also, when we go to Rainbow Bridge NM, there is a 1 mile walk to and from the bridge depending on the level of the lake.

Kayaking:

We will have 3 to 6 kayaks per boat for guests to use during the day. These will be a mix of 1 and 2 person kayaks.

Life preservers:

Each guest will have 1 life preserver for them while on the boat. When going on Powerboat rides or Kayaking, it will be required to take them along.

Power Boat Rides:

We will have 1 power boat for each house boat. We are expecting guests to be willing to drive these on their own as our guides will be captaining the houseboats through the lake and taking care of meals, etc.

Water skiing:

This will be determined on the availability of drivers for the power boats. We will have skis available for the guests to use.

Air and Water Temperatures:

Average Temperatures are 71 as a high and 47 as a low.
Water Temperatures average 67.

Alcohol:

Southwest Adventure Tours will not purchase or provide any alcoholic beverages for the guests as part of any meals, but if the guests would like to bring their own, they are more than welcome to.

Meals:

Please refer to the meal plans attached to this proposal for meals while out on the House Boats.

Fishing Opportunity Licenses:

Anyone interested in fishing will love Lake Powell. The lake is teaming with smallmouth bass, largemouth bass, striped bass, walleye, channel catfish, crappie, and bluegill.
Quick information about fish typically found in Lake Powell:

Smallmouth Bass

Best time of year to fish? Good year round fishing, but best time is April, and September, October. In the fall the fish are very active.
Taste? Really good flavor. Filet, coat with beer batter, and fry. Light white meat. Not real fishy tasting.

Largemouth Bass

Best time of year to fish? Good year round fishing and are typically found in deeper waters.
Taste? Largemouth bass has a more fishy taste than their cousin, the smallmouth bass. Best way to prepare is to smoke largemouth bass using alder or cherry wood.

Striped Bass

Best time of year to fish? Best fishing is when the shad start to school up after spawning. The stripers will "boil" or surface feed on them –typically July through October.
Taste? Stripers have a stronger fish taste. When you filet them, you must cut out the red meat. Grilled with lemon, butter, and pepper is a favorite way to prepare.

Walleye

Best time of year to fish? February through April.
Taste? Similar to chicken but with a slightly sweet taste. They are considered the best eating in the lake. Dip it in egg, roll them in pancake mix, and fry in butter for great eating.

Channel Catfish

Best time of year to fish? Summer and fall. If renting a houseboat, you can catch them off the back of your houseboat from June through October.
Taste? White-to-off-white in color, firm and tastes buttery. Not real fishy in flavor. Most people coat them in corn meal and fry them for a tasty dinner.

Crappie

Best time of year to fish? Spring is the best time to fish Crappie for 1.5 to 2 pounds.
Taste? Very mild, slightly sweet, non-fishy flavor. Probably the second-best tasting fish in Lake Powell.

Bluegill

Best time of year to fish? Great summer fishing.
Taste? They are very tasty, but run about 1 lb. when caught, and only about 6 oz. when filet, so you've got to catch several.

Licensing

We will assist with getting the proper license for anyone interested in fishing during the tour.

Equipment

Guests will need to furnish their own equipment. They can rent it or bring it with them.

Opportunities

Any morning or evening will be available to fish off the boat. During the day, if a power boat is available they can use the powerboat to fish from or they can fish off the houseboat when it is traveling through the lake.