Utah Mighty 5 - Epic National Park Tour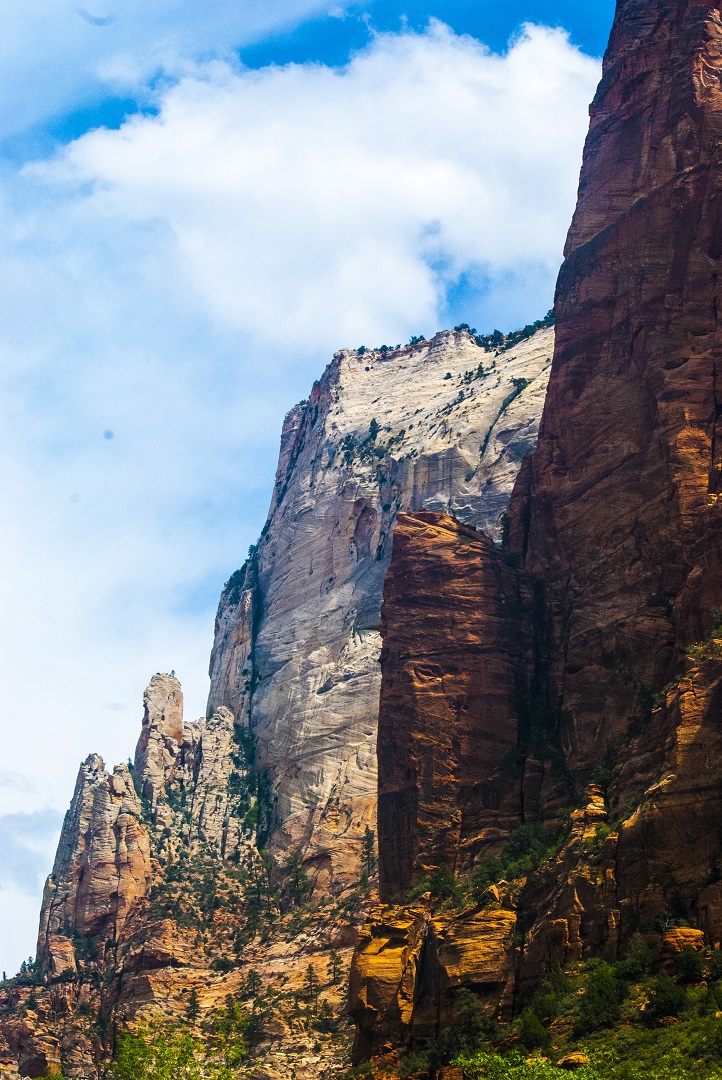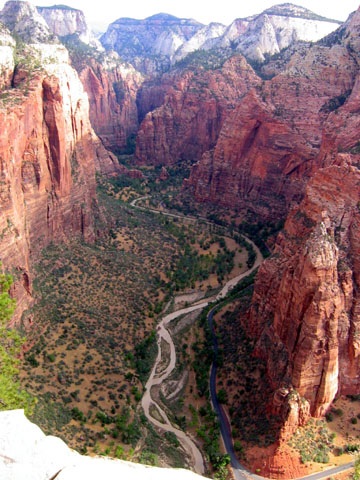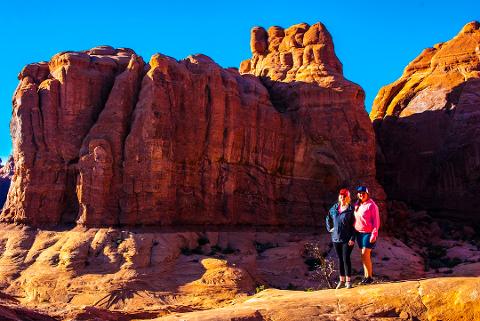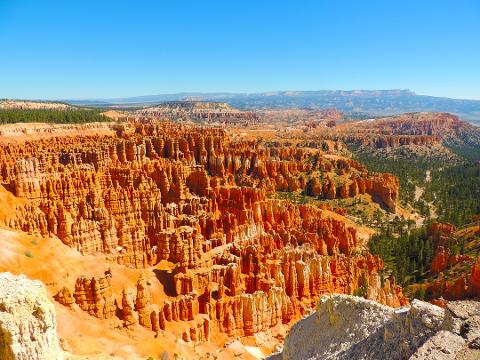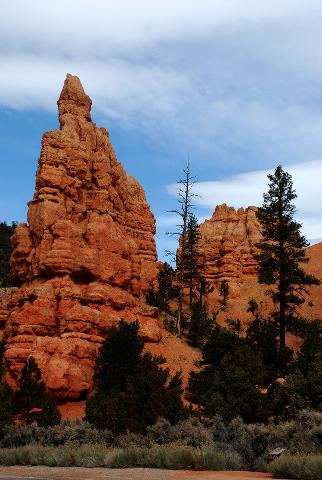 Duration: 8 Days (approx.)
Location: Salt Lake City, UT
Product code: EWGTAP856
Explore five breathtaking national parks: Arches, Canyonlands, Capitol Reef, Bryce Canyon, and Zion.
These comprise the Utah Mighty 5. You'll get a chance to explore them all on this 6-day guided tour in southern Utah. Join a small group of no more than 14 guests and a private guide on this week-long adventure. Hiking, scenic viewpoints, local eateries, hidden gems, and other fantastic experiences await!
Day 1: Fly to Salt Lake City.
explore the city on your own, or book an optional tour. Hotel is near city center, to take advantage of the light rail system, or easy walking
Day 2: Salt Lake City to Canyonlands National Park
Pick up Monday morning at 7:00 AM. Then enjoy an easy four hour drive through the majestic Wasatch Mountains over Soldier Summit and through the Dinosaur Capital of Utah to Canyonlands National Park.
You will visit the second district of Canyonlands National Park: Island in the Sky. From this large mesa, you will witness a wilderness of countless canyons, buttes, mesas, and other geological features that were carved over millions of years by the Colorado and Green Rivers. You will get to hike along the rims of the canyon, visit one of the most photographed geological features in the park, Mesa Arch, and hike along the edge of the world out to Grandview Point, Murphy Point, or Upheaval Dome.
Once finished, you will retire to the local hot spots in Moab, UT for dinner and an enjoyable evening before retiring at the Best Western Plus Greenwell. (L)
Day 3: Arches National Park
Arches National Park provides an opportunity to explore some of the 2,000+ arches found within its borders. Some have described this park as timeless, dream-like, or from out of this world. With a variety of geological features including fault lines, petrified sand dunes, arches, bridges, balanced rocks, spires, and many others, the list of possibilities are endless in this landscape of ever changing formations.
Today, wake with the sun and visit Delicate Arch before the crowds arrive. Afterwards, travel further into the park and explore, Park Avenue, Windows Section, Balanced Rock, Courthouse Wash, and other areas on the front south side of the park. Delicate Arch, Landscape Arch, and Double Arch are all on the list of must see formations. Along with these well-known arches, if time allows, you will get the opportunity to explore the Cove of Caves, Garden of Eden, Petrified Sand dunes, Fiery Furnace Viewpoint, Double O Arch and others.
At the end of the day, you will return to Moab, Utah, for one more enjoyable evening before retiring to your hotel. Lodge for the night at the Best Western Greenwell. (B,L)
Day 4: Canyonlands area to Capitol Reef National Park
This morning, you will explore the other side of Moab with a scenic drive and hike along the Colorado River to the fantastic Petroglyph Panels, Dinosaur Tracks, and other geological formations found just outside the park.
Later in the morning you will transfer to Capitol Reef National Park along the San Rafael Swell and along the Fremont River with a stop in Green River, Utah, for lunch. (3 hour drive). Capitol Reef National Park is one of the hidden gems of Central Utah. Filled with cliffs, canyons, domes, bridges, petrified wood, geodes, and fruit orchards, it is one of the least visited parks in the US. All of this is tucked into the middle of the Waterfold Pocket, a 100 mile geologic monocline slowly being exposed by erosion.
With geological formations from the top layers of the Grand Canyon to the top of Mesa Verde, this park offers you the opportunity to experience 15+ unique rock layers all within a small area. Your guide will also share stories of the settlers and Native Americans who lived in this area for thousands of years where you'll learn of the rich cultural history that goes along with the geological formations in this area. You will also see Petroglyphs and historic buildings left over by those who came before.
Your final stop for the day will be Sulfur Creek Overlook and Panoramic Point. Afterwards, you will retire to Torrey, Utah, for a relaxing evening at Capitol Reef Resort where you will lodge for the night. (B,L,D)
Day 5: Capitol Reef National Park to Bryce Canyon National Park
Enjoy the beautiful sunrise from your hotel balcony before returning to Capitol Reef National Park for a great morning of hiking and exploring more of this park. Options for today include Hickman Bridge, Cassidy Arch, Grand Wash, Cohab Canyon, Chimney Rock, and Sulphur Creek. Each one offers an experience unique to its own area with different rock layers being available for exploration.
Once finished, you will transfer to Bryce Canyon National Park (3-4 hour drive) along the Scenic Route 12, one of the most scenic roads in America. You will climb over the Aquarius Plateau (topping out at 9,600 feet), drive down into Boulder, Utah, then over the "Hogback" with a drop of hundreds of feet on either side of the narrow road, and traverse the labyrinth of canyons that form the Grand Staircase Escalante Monument.
Once in Bryce Canyon, you will begin with a short hike to Mossy Cave along the East Fork of the Sevier River as it cascades down into the valley of Tropic. (Only runs in the spring, summer, and fall). This will be your first experience in this magical landscape filled with Hoodoo's and other interesting geological formations.
In the evening, you will get to relax at Bryce Canyon Grand in Bryce City, Utah. For those interested, you can attend the Night Sky/Astronomy program offered by the park service at the visitor's center. (Available from May to October, weather permitting). (B,L,D)
Day 6: Bryce Canyon National Park to Zion National Park
Sunrise at the Rim of Bryce Canyon offers those willing to wake up with the sun the opportunity to see this landscape transform from a gray mass into a colorful wonderland filled with odd-shaped pillars and walls of rock. Hoodoos are found throughout the world, but these are colored in ways unmatched by any other area on earth. Spanning over 2000 feet in elevation, Bryce Canyon has three distinct climate zones within its borders.
Created by the processes of faulting, geological uplift, and frost wedging, this landscape has transformed itself into a playground for you to enjoy. From a comfortable walk along the rim to hiking the Queen's Garden/Navajo Loop trail or Fairyland Loop trail, you will have a full morning inside the hoodoos, spires, and other geological features in this park. Along with hiking, you have the opportunity to see pronghorns, antelope, deer, and other mammals on this high plateau.
Around lunch time, you will transfer to Zion National Park. (2 hours). Along the way, you will enjoy lunch at one of the many local eateries that are available. Coming into the east entrance of Zion National Park, you will witness the top layers of the largest sand dunes that have ever existed. You will enjoy the opportunity to see bighorn sheep climbing the area, ponderosa pine trees growing out of the side of sheer cliffs, and the individual layers of sand shaped and altered over millions of years.
After a brief stop at Checkerboard Mesa and a few other prime photo stops, you will have the opportunity to hike up to Canyon Overlook and look 2500 feet down to the bottom of Pine Creek and Zion Canyon. After traversing through the historic 1.1 mile long tunnel and down into the canyon, you will get to enter into the main canyon and continue to see why this landscape was sacred to the Native Americans who lived here for thousands of years.
Once finished, you will transfer to the entrance of the park and into Springdale, Utah, for a relaxing evening. Lodging for the night will be at the LaQuinta Inn and Suites. Around this hotel you have art galleries, eateries, and other fantastic shops to explore before calling it a day. (B,L)

Day 7: Zion NP to Salt Lake City
Wake up early and explore the canyon or relax in the shadow of 3000+feet cliffs from the balcony of your hotel. Either way, you can't go wrong. You can hike the Virgin River Narrows, traverse Angels Landing, walk to the Emerald Pools, or for those wanting to pack in the miles, climb up the East Rim Trail to the top of the park and visit Cable Mountain or Observation Point.
Once noon rolls around, you will depart the park for your journey back to Salt Lake City, Utah. (4.5 hours) Along the way, you will stop for lunch in historic Cedar City, Utah, and another break in Fillmore, Utah. Also you will travel along the Hurricane and Wasatch Fault lines. You should arrive in Salt Lake City by 6:00 pm to your originating accomodation. (B,L)
Day 8: Salt Lake City - Departure - Fly Home.
Inclusions:
Knowledgeable Tour Guide
Comfortable Transportation in a Mercedes Sprinter with Captain Chairs
5 Nights Hotel Lodging with Breakfast
2 Dinners
6 Lunches
Park Entrance Fees
Taxes, Fees, and Gratuity Associated With All Activities (Tour Guide Tips Excluded)