Half Day Petroglyph Horseback Ride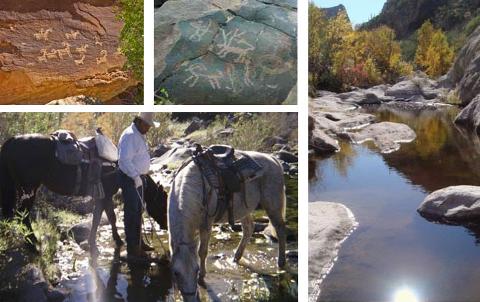 Duration : 240 Minutes (approx.)
Location: Cave Creek, AZ
Product code : PRQPZP
This
beautiful, scenic ride is where Spur Cross riders personally ride during
their extra time! Horses are chosen specifically to meet the needs of
each rider, so it's perfect for the whole family. On the trail, you will
be captivated by the surrounding views and natural beauty of Tonto
National Forest. Stopping at a few creek crossings so the horses can
take a drink, your knowledgeable wrangler will teach you about the local
wildlife and answer any questions.
Once you
arrive at your destination, the spirit of the Hohokam Native American
Tribe will astonish you. Ancient Petroglyphs are prehistoric drawings
carved into the outer surface of the rock. Although they have been
studied quite frequently, there is still much to be learned about them.
You will be able to take your time to decipher the meaning behind these
age-old figures and what messages natives attempted to convey; using
your imagination of course!
Highlights
of our 4.5 hour Petroglyph trail ride include: Amazing scenery of the
Sonoran Desert; Ancient Petroglyphs telling stories of Hohokam life;
Meet your horse, learn the basics of horseback riding and receive a
couple of carrots to feed them after the ride; "A thank you for the horse's companionship"; Learn about the natural plant and animal life of the desert.
Allow our
experienced wranglers to show you, your family, and friends a
well-preserved world unseen by many. You'll create meaningful memories
which will last a lifetime on this journey back in time!